Welcome to the YMAS Website
The York Model Aircraft Society (Y.M.A.S) website is here to help all our members and visitors keep up to date with club news and the latest flying in York. for more information on YMAS please click
Here
or select the "About" menu item above.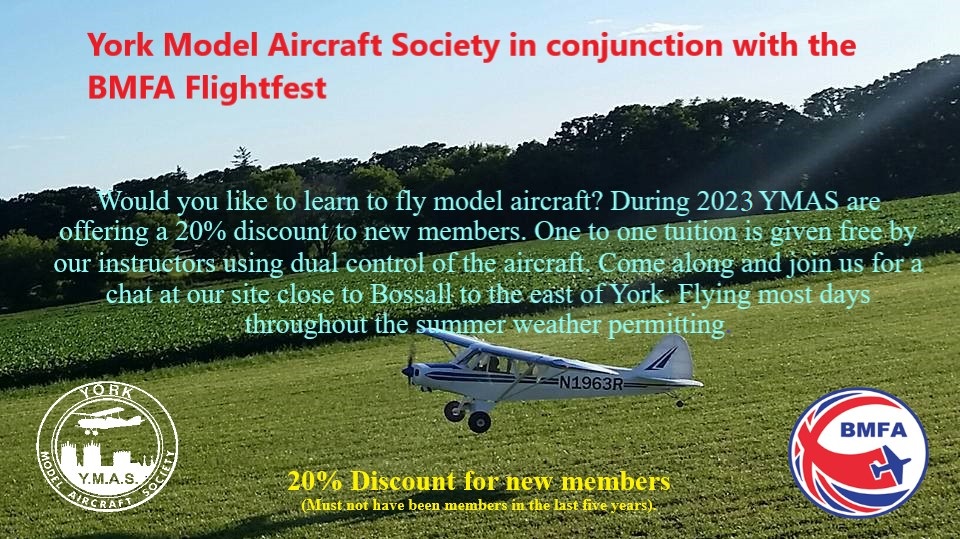 For more details on FlightFest or for YMAS membership please email
y.m.a.s@hotmail.co.uk
Upcoming Events & News
Under the current govt. restrictions indoor flying is banned consequentially all indoor dates for October 2020 are cancelled, further updates to follow.
Power Competition 'Touch N Go' Results The results of the Touch N Go Power competition are available Here
New Video Sideshow of the YMAS "Touch N Go" and glider competitions on the 31st of August on the Video page Here(login required)
Gliding Competition Results The results of the special phoenix glider competition (which was the only comp held on the glider competition day due to the weather) are available Here
The club has several air frames and IC engines for sale please visit our For Sale page for more details>
New Pics on the photo gallery Gallery
The flying field at Bossall is open. However the hut is now out of bounds. Chairs and the wind sock have been left outside behind the hut. It is however suggested you bring and use your own chair.