Welcome to the YMAS Website
The York Model Aircraft Society (Y.M.A.S) website is here to help all our members and visitors keep up to date with club news and the latest flying in York. for more information on YMAS please click
Here
or select the "About" menu item above.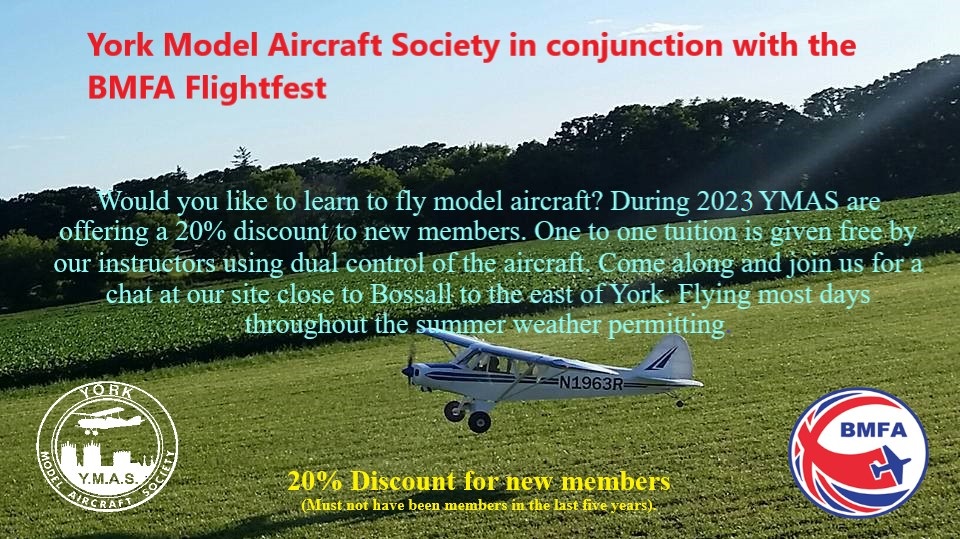 For more details on FlightFest or for YMAS membership please email
y.m.a.s@hotmail.co.uk
Upcoming Events & News
The flying field is now open please use the WhatsApp 'Track and Trace' thread to register your, "Name, Time In / Time Out".
Please note: Keep a 2m distance between flyers, and only 2 flyers are allowed in the Pilot Box at any one time. please park your cars 3m apart and Sanitise hands regularly especially after touching equipment not belonging to you.
Most of all have fun, fly safe and be safe!
This years AGM will be held via Zoom on the 15th of December at 7:30pm - please see your emails or contact Paul Lewis
A Practise Zoom meeting and general chat will be held on the 8th of December at 7:30pm - please see your emails or contact Paul Lewis
Bob Sansoni has an Align 550 Heli and a Blade 350 QX2 Quad-Copter for sale please visit our For Sale page for more details
The club has several air frames and IC engines for sale please visit our For Sale page for more details