Welcome to the YMAS Website
The York Model Aircraft Society (Y.M.A.S) website is here to help all our members and visitors keep up to date with club news and the latest flying in York. for more information on YMAS please click
Here
or select the "About" menu item above.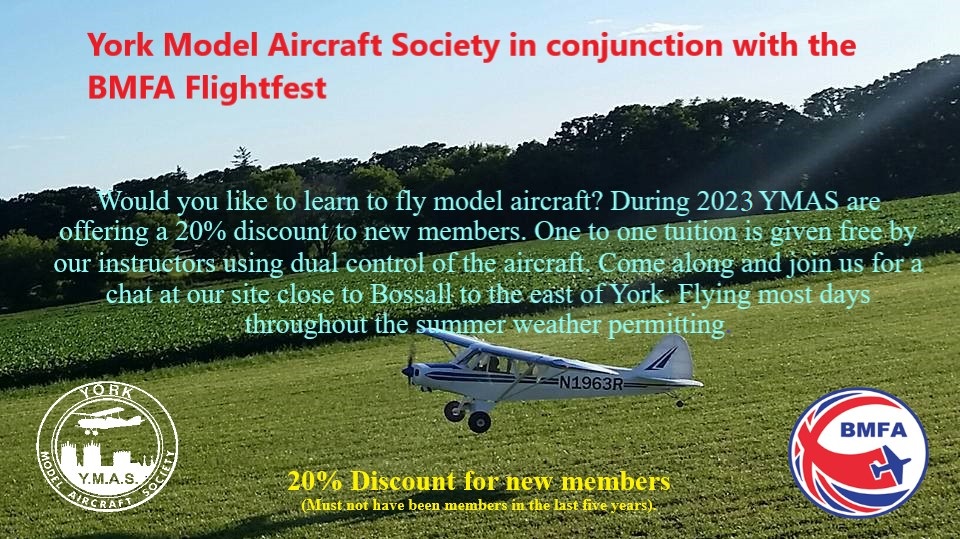 For more details on FlightFest or for YMAS membership please email
y.m.a.s@hotmail.co.uk
Upcoming Events & News
The flying site at Bossall is now open
YMAS BMFA 'A' Tests Fixed Wing
- So Its a big well done to both Joe Atkins & Stephen Sheffield for attaining their BMFA Achievement `A` Certificates, at our YMAS field on the 9th April 2021.
More detail in our
Photo Gallery
(Login Required)
The Club competition and meeting dates have been updated and published HERE
The next quiz night is on Tuesday the 4th of May @ 19:30, The Zoom login link will be emailed but it's also in our members area.
A New page has been added to the menu on the left for BMFA information - This page has some basic information on the BMFA and links to the BMFA, BMFA northern Area, Article 16, The BMFA membership portal etc..
The club has several air frames and IC engines for sale please visit our For Sale page for more details