Welcome to the YMAS Website
The York Model Aircraft Society (Y.M.A.S) website is here to help all our members and visitors keep up to date with club news and the latest flying in York. for more information on YMAS please click
Here
or select the "About" menu item above.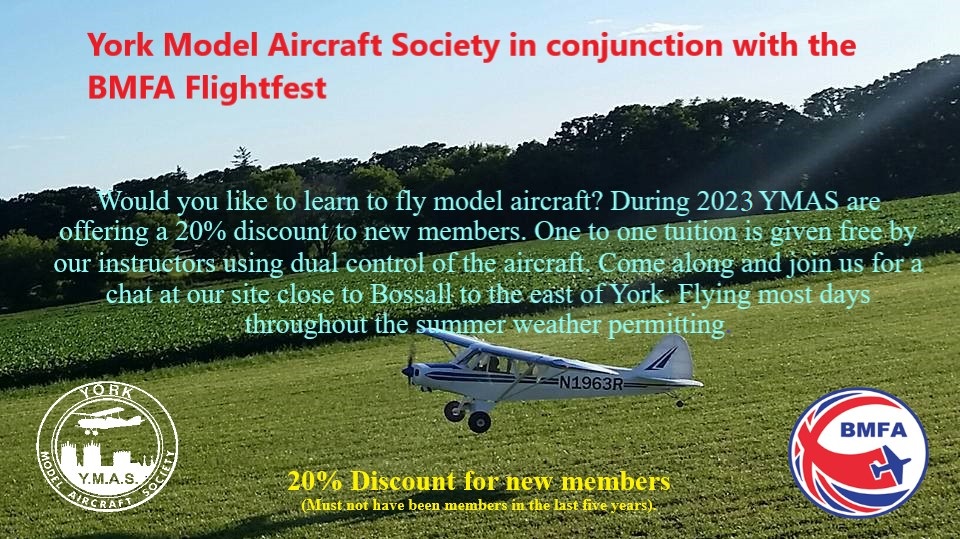 For more details on FlightFest or for YMAS membership please email
y.m.a.s@hotmail.co.uk
Upcoming Events & News
The flying field at Bossall is now open.
However the hut is now out of bounds. Chairs and the wind sock have been left outside behind the hut. It is however suggested you bring and use your own chair.
Please note:
that even thought the Club field is now open club meetings and competitions are still cancelled until further notice
The new Club News letter is available in the Newsletters section members area - only available to logged in Members.
New pictures added to the Photo Gallery cutesy of Dave Swales.
The postal glider competition and YMAS Challenge Cup has restarted with a 4 Competitions out of 5 format for the year, please see the forums at the eSoaring.net website, or talk to Ian Cowe for more details