Welcome to the YMAS Website
The York Model Aircraft Society (Y.M.A.S) website is here to help all our members and visitors keep up to date with club news and the latest flying in York. for more information on YMAS please click
Here
or select the "About" menu item above.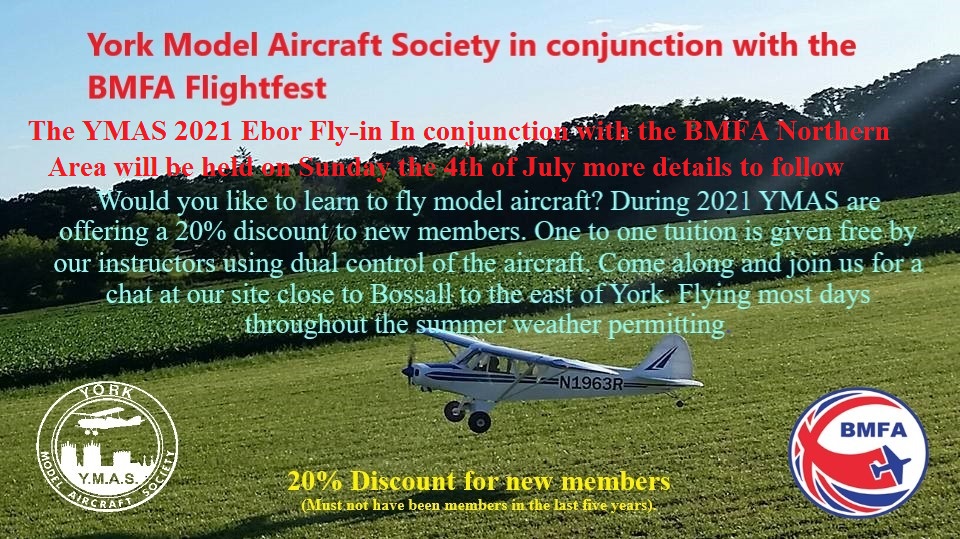 For more details on FlightFest or for YMAS membership please email
y.m.a.s@hotmail.co.uk
Upcoming Events & News
The Results for First Open Glider Competition are now available Here
The First Phoenix Glider Competition is this Sunday 7:00pm at Bossall
We are greatly saddened to report the passing of Perry earlier this year. An all-round good guy and chatter box. He always had a funny story that brought a smile to many of us and who could forget the famous Lunch box incident.
The EBOR electric fly-in in conjunction with the BMFA northern area, will be held on July the 4th more details here
The next quiz night will be on Tuesday the 11th of May @ 19:30, The Zoom login link will be emailed but it's also in our members area.
YMAS BMFA 'A' Tests Fixed Wing - So Its a big well done to both Joe Atkins & Stephen Sheffield for attaining their BMFA Achievement `A` Certificates, at our YMAS field on the 9th April 2021.
More detail in our Photo Gallery(Login Required)
The club has several air frames and IC engines for sale please visit our For Sale page for more details