Flying at Bossall
Members may fly at the Bossall site between 9am and dusk (8pm for IC engine models) throughout the year. The number of aircraft allowed to be airborne at any one time is at the discretion of the Safety Officer. Consideration must be given to the conditions, the type of aircraft, the experience of the pilots and general safety rules. Aircraft must be restrained when starting. Assistance is required when using a stand to support a model. Propellers should be pointed away from persons at all times Engines must not be revved excessively in the pit area.

When busy at the flying site, flying slots will be of 20 minute duration. If a start up box or area is in operation, this should be used and no other starting point will be allowed. Models should be carried to the take off area during which time the engine should not be revved excessively. The direction of take off must always be away from the flight line or not less than parallel to the flight line. Models can be taxied to the take off point, which MUST be upwind or PAST the pilots box -(This includes the hand launching of models). Pilots & helpers may stand behind a model during take offs or hand launching, BUT they MUST return at once, after take off, or hand launching of models, to the flight line so as to stay in close proximity to other pilots.

Note: All pilots must stand together when flying.

Directions to the Bossall Flying Site

Bossall Club House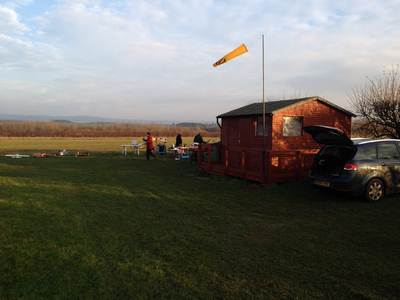 Care of the Field
Mobile Phones
Mobile phones are not allowed in the pilot's box or on the flying strip.It is recommended that members leave their mobile phones in their vehicle.

Litter
All litter, model parts and any debris in general must be removed from the flying site by the member to whom it belongs.

Vehicle Parking
Vehicles must be parked inside the No Fly Zone well clear of the pits. Vehicles must not enter or park upon the flying square at any time. Please try to keep the entrance and drive in area in good condition especially in wet weather times when the ground gets cut up and very slippery. Please enter and leave slowly without excessive revving or sliding.

Molehills
It would be appreciated if any member is at the flying field and molehills are apparent, that the member(s) collect the soil forming the mound, using the shovel and wheel barrow provided, and deposit the soil at the local soil deposits arrears, located near to the flying area, to assist all other fliers and our Maintenance Officer. Please DO NOT rake the Mole Hills OUT across the flying patch as this creates bumps and unevenness of the flying surface.

Windsock(s)
The windsock(s) are there for all to use and it would be appreciated if at the end of the flying session, that the Windsock mounted to the shed is disassembled and put back inside the shed and that the shed is locked up before leaving the site.
Please note: if there are any other windsocks placed anywhere else around the site, these are intended to be are left out permantly and do not require putting away in the shed.

Field Maintenance
The Field Maintenance Officer is responsible for the condition of the field and as such it is requested that members co-operate with him when he is cutting the grass and maintaining the field area. Field Maintenance is an essential part of our sport.

Revised use of Bungee launching equipment - (mainly for EDF models)
For safety reasons, the use & positioning of any model bungee launching equipment must only be undertaken in the following manner, (but please note that these instructions are being issued as part of a TRIAL PERIOD and are subject to changes by the Safety officer / committee, at short notice.

A) - The use of bungee equipment - whilst normal flying continues. It is currently allowed to set up a bungee launching system, alongside the rough grass, separating the car park and the flying field, but the following method MUST be applied. 1) Before any setting up of the launcher & bungee chord system is undertaken, all other flyers must be made aware that this about to be done and normal flying should be halted whilst the equipment is set up. 2) The launcher MUST be set at angle of at least 30 Deg. (but preferably more), angled away from the edge of the rough grass strip, separating the field and car park, (basically pointing towards the far corner of the field or farm), when the wind is running down the field, OR, if the wind is from the east, and all flying operations & cars, have moved to the west end of the field (see flying layout drawings in the YMAS handbook) – Then the bungee and launcher, needs pointing well away from the shed, i.e. towards the woods at the far corner of the cropped field.

B) - The use of bungee equipment – By Calling for a `Slot Time` Solely for this activity. if the wind is deemed to strong, or not in suitable direction for the launcher to be used as in (A)(2) above, -- Then, the launcher & Bungee, can be set up in the middle of the field, or over at the far side of the field, or aligned across the field (but if the later, only pointing to the north, NOT pointing to the south).

HOWEVER, to operate in this way, a "SLOT TIME", for the sole flying and use of models needing the use of the bungee launching equipment, must be `called` (Max 20 mins) and ALL other flying will cease for the slot period and ALL persons not directly involved with the launching & flying of the launched model process, MUST be off the flying field, until the all launching equipment has been removed and the flying slot has finished.

(As mentioned previously, the above rulings are for a trial period & subject to changes, so consult the safety officer before flying bungee launched models & associated equipment.)

Wind Direction up or Down The Field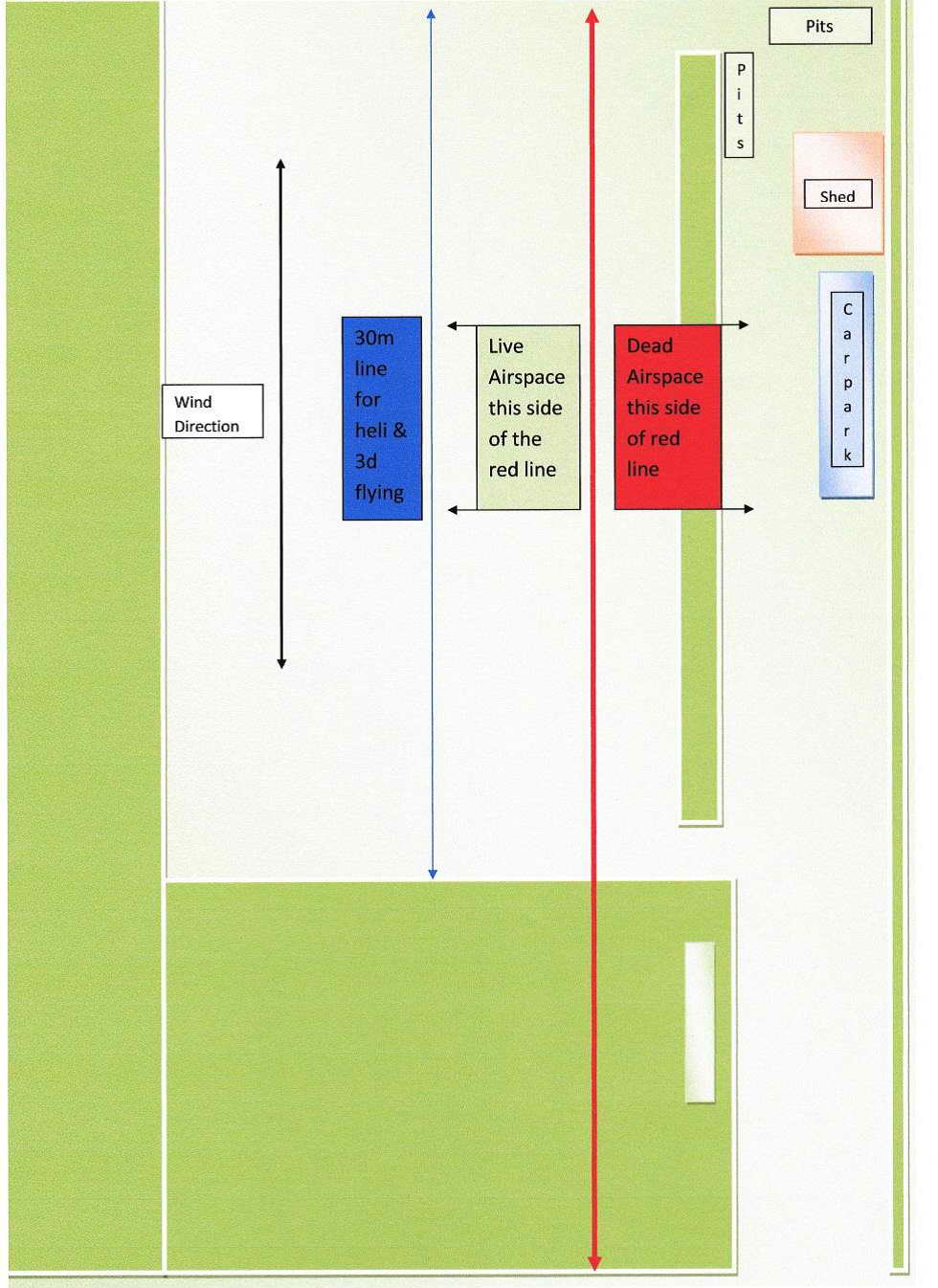 Wind Direction Accross The Field